My preferences in self-bondage
A quick view of what I love in bondage :-)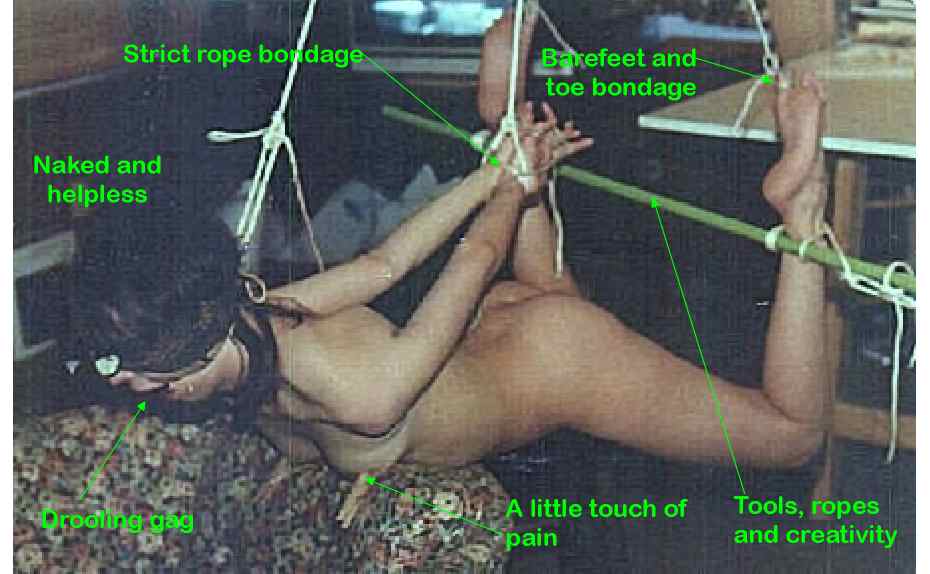 What I prefer is rope bondage. I very LOVE ropes! They feel like a caress to me. But sometimes I like chains too; mainly for their inescapability... A little soft self-torture can be fun; you know: clothespins, wax, painful bondage; but I apply pain only over a strict bondage; self-torture is only the cherry at the top of the pie...

Ropes, chains,... in fact material doesn't matter. What is most important is creativity! Unusual positions, strict bondage, strange positions, exciting mission to fulfill, new ideas of release-mechanisms, imaginative role-play scenario, etc. etc.
My favorites are toes-binding (and all kind of feet bondage) and I like when I am drooling under my gag... I don't really like to wait and suffer. What I really love is to fight the ropes, to struggle for my freedom. If you put me in a cruel position in which I have nothing else to do thant moan and plead, you can be sure that I shall work hard looking for the weak point in the bondage, and generally I will find it! I'm like this: I don't enjoy myself while I have nothing to do...


If you read the reports in my hit-parade, you will have a better idea of what makes me climbs up the walls...